GAC Safety Culture
Our safety culture and program is built on leading industry standards as well as the lessons learned from the past 45 years and the hundreds of projects we have safely completed in the railroad and commercial environments.
Culture
Safety is not a statistic at GAC, it's a way of life. A successful workday has only been achieved if each employee and contractor return home safely every night. Everyone plays a role in our safety program and likewise shares these values.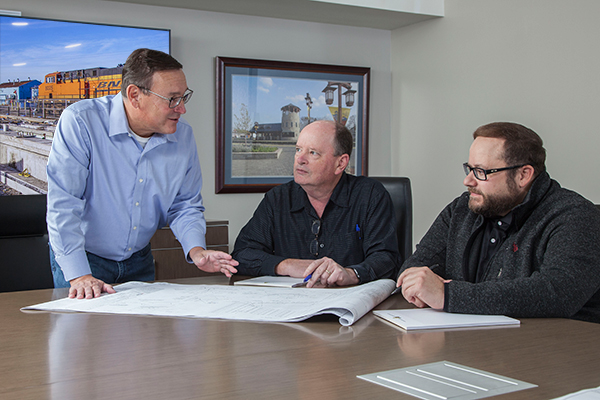 Leadership
Our leadership is fully committed to protecting its workforce and empowering its employees and partners to make real-time safety decisions. Safety considerations have the strongest voice at the table throughout all stages of construction. All levels of management constantly demonstrate our safety culture and are easily accessible to assist with unique problems or employee concerns.
Continuous Learning
Employees and management are continually working to improve their own knowledge sets and to advance the workplace safety culture as technologies and methods evolve. We educate and train all employees to clearly defined safety standards and procedures for both general and rail-specific construction environments. Additional training and continuing education opportunities are also available.
Railroad
The railroad industry has its own safety regulations and we at GAC are well versed in them. We subscribe to all the Class I railroad safety programs, comply with all FRA regulations, and are highly certified in OSHA standards.
Record
Our safety goal is nothing less than a safe work site with zero fatalities and for the past 45 years we have accomplished this goal. Our internal division of safety managers utilize industry-specific resources including Network Safety Consultants and an internal Accident Review Board to help ensure our goal of being the safest possible railroad construction company.
Empowerment
Safety transcends corporate hierarchy here at GAC. While our managers are here to train and enforce safety guidelines, all employees from interns to field personnel, are encouraged and required to voice any safety concerns. We want everyone to feel empowered to make real-time safety decisions and to continually improve our safety program with each project we complete.